Things to Consider Before Engaging Kitchen Remodeling Contractors in Philadelphia, PA
Build the perfect new kitchen with help from the best kitchen remodeling contractors in Philadelphia, PA! Most homeowners already know that you need to hire professional kitchen designers to create the kitchen of your dreams. However, everyone should strategize with their family members before engaging a local contractor. Below, find some of the most important things to consider prior to setting up a scheduled consultation. 
Choose Your Appliances First
Pick out the appliances you want before hiring kitchen remodeling contractors in Philadelphia, PA so your cabinets and countertops will fit snugly around your appliances. Decide on your new refrigerator, stove, oven, and other appliances first so you can note their measurements. That way, you can design your storage and surfaces around each appliance. 
Know What You Want
One of the things that bother professional kitchen remodeling contractors is clients who have no idea what they want. Do a little research and make a list of a few custom kitchen design ideas so that you have something to talk about once the designer comes over for a visit. Make sure you feel secure about the decisions you make together because once the building process starts, it will cost a lot of time and money to change designs in the middle of the construction. 
Storage, Storage, and More Storage
Before you start contacting kitchen remodeling companies, consider how much storage you want. Once you come up with a rough estimate, increase the total amount of storage you think you need by at least 50%. You can never have enough storage, but lacking the storage necessary to hold all of your pots, pans, dinnerware, food items, and small appliances can become a major, long-term annoyance. 
Don't Forget the Finer Details
Most homeowners find it easy to focus on the big stuff and forget about the finer details. While getting caught up on granite countertops and imported Tuscan floor tiles, some kitchen owners neglect installations that accent the rest of the workspace. The right knobs for your cabinets can make all the difference in the world, while a stylish, designer backsplash can easily become the main focal point of the entire kitchen. 
Go with the Workflow
Many homeowners have designed absolutely gorgeous kitchens only to find out that they lack functionality. You might think that it makes sense to place the fridge, sink, and stove adjacent to each other. However, most kitchen renovation contractors would advise against it because it crowds everything together when making a meal with your family. Instead, triangulate these three important workspaces for a more efficient workflow. 
Let There Be Light
New lighting may represent the easiest thing to forget when thinking about a kitchen redesign. All of the attention goes to cabinets, surfaces, and appliances, so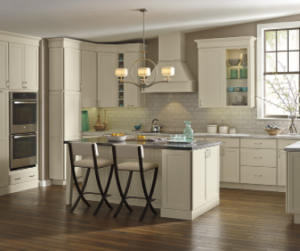 homeowners forget to look up. Proper lighting can make the difference between a warm, welcoming, and workable kitchen and a stark, bright, sterile room that looks more like a dentist's office.  
Can you visualize your dream kitchen? Call Inspiration Kitchen and Bath today at (610) 448-9919 to schedule a consultation with the best kitchen remodeling contractors in Philadelphia, PA!