Inspiration Kitchen and Bath – Trusted Luxury Kitchen Remodeling Company in Skippack

 
At Inspiration Kitchen and Bath, we know that your kitchen is more than a room for preparing food. It's often the center of the household—a warm gathering place for friends, family, and loved ones to set aside their busy schedules and connect over a shared meal or beverage. From quick breakfasts before school to holiday gatherings, your kitchen hosts some of your most treasured moments.  
Give your kitchen – and your lifestyle – the upgrade it deserves with a customized renovation from Inspiration Kitchen and Bath. We'll work with you from inspiration to installation to capture your vision and create a kitchen that combines unmatched luxury with functionality for a space you'll love for years to come.  
With decades of experience satisfying our clients in the Skippack, PA, area, we've crafted a streamlined, three-step process that will ensure flawless finishes every time:  
Inspiration
During the initial consultation and inspiration phase, you'll work with Fran Isaacson—our founder, lead designer, and award-winning kitchen remodeling contractor—to create a vision for your project. Then, we'll dive into the details, such as:  
The project's scope

 

The project's budgetary expectations 

 

The project's concept and design 

 

The project's timeframe

 
Design
After fine-tuning the details of your project, Fran will personally begin designing your new kitchen or bathroom. The design phase will include a series of precise steps, including:     
On-site measurements

 

Space planning 

 

Appliance selection

 

Initial CAD renderings

 

Layout finalization

 

Material selections (tiles, countertops, cabinets, fixtures)
Additionally, we will provide you with an itemized estimate that includes budgetary allowances. Once you've reviewed the estimate and agreed to the terms, we will draft a final proposal and get to work.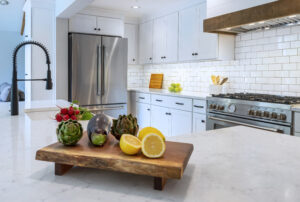 Installation
Finally, Fran will supervise a team of expert kitchen remodeling subcontractors to begin the building and installation process. To make the build as hassle-free and straightforward as possible, Fran will serve as your concierge project manager handling every aspect from start to finish, including:     
Ordering materials

 

Applying for permits

 

Scheduling the project

 

Overseeing deliveries

 

Coordinating with reliable general contractors 

 

Conducting on-site visits to ensure timely installation

 
Most importantly, we will provide you with the knowledgeable one-on-one attention you expect from a boutique kitchen design and remodeling contractor. Whether you need clarification on the process or desire our input when choosing the best fixtures, appliances, paint, or flooring for your space, we make ourselves available to you every step of the way.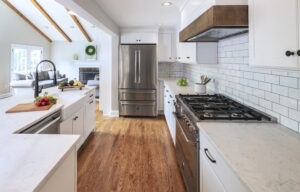 The Best Kitchen Remodeling Company in Skippack, PA

 
With countless kitchen remodeling companies in Skippack to choose from, many homeowners feel tempted to opt for the cheapest option even though it may not be the best. However, if you truly want to upgrade your lifestyle, transform your home, and experience the beauty of luxury living, then you need our superior Inspiration Kitchen and Bath services.  
We combine an unparalleled eye for design with a knack for comfortable elegance. Our designers and kitchen renovation contractors specialize in transforming busy spaces like your kitchen or bathrooms into architectural features. They will inspire serenity, warmth, and ease while keeping the process as streamlined and hassle-free as possible.  
If you're ready to invite a new layer of luxury into your life, contact our Inspiration Kitchen and Bath team today. We happily offer virtual or on-site consultations for clients in Central Montgomery County to the Philadelphia Suburbs.