Inspiration Kitchen and Bath

—

Bathroom Remodeling Cost in Skippack, PA

 
Inspiration has struck, and you've decided to update your bathroom — and now you want to find the best price. Unfortunately, comparison shopping for remodels can be pretty challenging.  Pricing varies depending on factors like where you live, what you are having done, the size of your space, what quality of materials you choose, and many other components. 
 Here at Inspiration Kitchen and Bath, we want to help simplify the process and take your bathroom renovation plans from inspiration to installation.  Let's take a look at some of the essential details that can affect your bathroom remodeling cost. 
Factors Affecting Bathroom Remodeling Costs

 
Did you know that your bathroom remodel cost can be vastly different from one part of the country to another as well as one house to another? We've put together a list of some of the significant price-point factors:  
The age of your home

 

Plumbing updates or replacements needed

 

Expansion from half-bath to full-bath vs. replacement of existing bath

 

Need for the rebuilding of walls or structures

 

Your material, finish, and fixture selections

 

Updating of shower or tub
These and other factors help to determine which of the three levels of bathroom remodeling you'll need: minor, major, and upscale. 
The Major Bathroom Remodel
Since we do not provide minor bathroom remodeling services, let's jump into the major bathroom remodel. The cost of a major bathroom renovation will be much higher than a minor remodel since it upgrades far more than just aesthetics.  In some cases, depending on the age of your home, we might need to update plumbing and fixtures, which increases the timeline as well as the cost of materials and labor.  
It can be easy to underestimate the amount of work that will need to go into a major remodel. Unfortunately, many homeowners get themselves into a serious mess — and much debt — when they try a DIY bathroom remodel.  
That's why Inspiration Kitchen and Bath is here. We can help you throughout the process, from inspirational design ideas through to final installation — and we can accurately estimate the costs since we've done this so many times. We promise to be there for every step of the renovation process with our unmatched expertise! 
The Upscale Bathroom Remodel
Looking to add a design-build spa retreat to wash the day away? Perhaps you want to relocate your master bathroom for a more functional floorplan?  The upscale upgrade is a bathroom remodel designed to meet the needs of your luxury living.  This remodel level will update or create your bathroom in every way imaginable. You'll want to be prepared to invest more in this level of bathroom remodeling, as it is the most intensive type of remodeling. It can also make quite an impact on the resale value of your home. 
Worried About Luxury Bathroom Costs in Skippack, PA?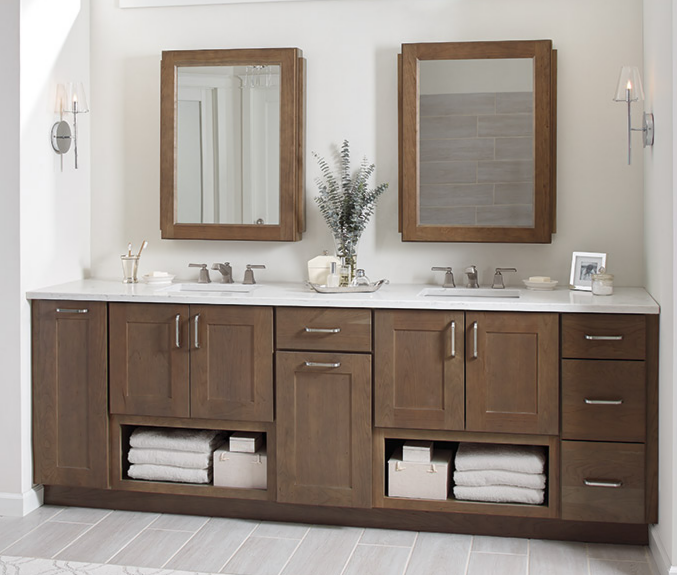 Are you still worried about the cost of renovating your old, outdated bathroom? With our award-winning designer, contractor colleagues, and computer-aided drawings, you don't have to be! We know the materials that will suit your budget and show off your style. 
Some of our favorite luxurious bathroom transformations have included beautiful materials like: 
Porcelain

 

Travertine

 

Carrara marble

 

Glass mosaic

 

Stone tile

 
We're passionate about refreshing and updating your favorite spaces.  Some homes are older and might require a little more tender, loving care — and a bit more work to fully transform. No worries! Our owner, Fran, can lead you to a more luxurious lifestyle.  She'll cover all of the bases so that you won't have to worry about the hassle of permits or hiring multiple contractors. 
The Inspiration Kitchen and Bath team is ready to consult with you today in or around Skippack, PA. Please call us for a virtual consultation at 610-822-9155.